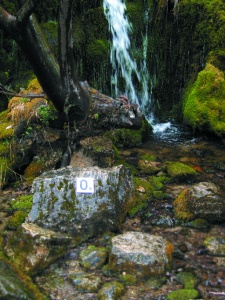 The transectal walk
Paul-Armand Gette & Bernard Plossu

40.00 €
.
2013
Publisher: Musée Gassendi / CAIRN Art Centre
Artist's book: published in 150 copies including 100 numbered copies signed by the artists.
"It was Friday 8 July 2011, and we were not on bicycles, and Paulette was not with us either, but more sophisticated people with 0m behind. We went from Cheveux de Venus's Hair to the Splendours of the night, and no one would have known anything about it if Bernard Plossu had not been there, appearing on the right or left, front or back, sometimes disappearing, with one eye screwed up and the other on the viewfinder. No, not of the rifle: he does not belong to the sad band of damned stupid hunters who murder animals, and not even to the brotherhood of photographers that I detest. He is an artist who lets us see afterwards what we had missed and what we would never have seen without him. He is a kind of leprechaun and, ever since we met in Naples in the late 1980s, we come across each other, always smiling, as if to say "Everything is fine, my friend" even if the times are more and more disgusting.
He touches the image with the delicacy of a slightly shy lover who slips his hand under Paulette's skirt. Phew, that's it, I'm overtaken by my 'propensity to be excessive'. It's the fault of the other person, with his song that I can't get out of my head. Excuse me, Bernard, but, before leaving to strut about on an Andalusian beach, the 'girl cousin from the Alpine meadows' sent me the photographs that you took between Digne and Auzet, as I already said on 8 July 2011. It seems that we are going to make an artists' book, in the plural naturally, since we are, it is the girl cousin who says so, and so we will believe her, and next time…
well, we'll see!"
Paul-Armand Gette, Paris, 28 April 2012.