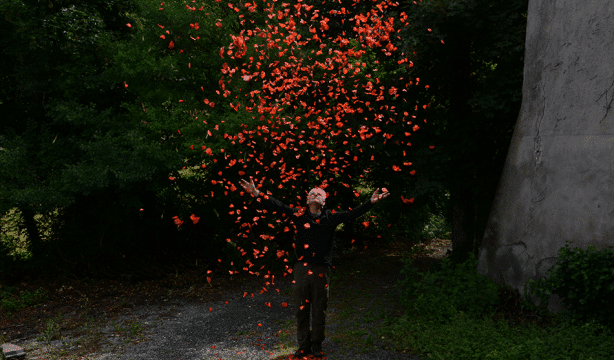 Published on 10 July 2023
by Musée Gassendi in
Non classé
EXHIBITION FROM JULY 14 TO DECEMBER 24, 2023 
opening on July 13, 2023 at 6 p.m. in the presence of the artist. 
In 1994, the British artist Andy Goldsworthy was invited for the first time to the Gassendi Museum for an exhibition in tribute to life in all its diversity. Since then, the sculptor has definitely entered the history of the landscapes of Haute-Provence by developing in Digne a series of permanent works in abandoned villages: Refuge d'Art. 
Always working on different scales, he created sculptures simultaneously at Refuge d'Art, sometimes lasting a few seconds. "Mortality and instability are always present in his mind" as the philosopher Donna Haraway points out. 
It is these works, elaborated alone – sculptures, video, performance – and on the fringes of the more monumental work of the Refuge d'art that is given to us to see.
The exhibition is accompanied by the presentation of a donation to the Gassendi Museum of 40 drawings by the artist. 
Download the presentation of exhibition in English 
This exhibition marks a return to Digne for Goldsworthy, who was first invited in 1994 to show a solo exhibition at Musée Gassendi. That same year, he started Refuge d'Art, which stands as one of the world's largest collections of works by Goldsworthy in a public space. A single, integral work of art, it is intended to be visited over a ten-day hike and traverses exceptional landscapes, highlighting both nature and culture. 
During the summer and by reservation, guided tours of the exhibition will be offered by our mediators every Sunday and creative workshops for adults and children every Wednesday. 
From the start of the school year, find a new program of activities echoing the exhibition, in particular on Wednesday October 4, a creative workshop in the black marls near the Refuge d'Art des Bains Thermaux as part of the Inventerre festival.