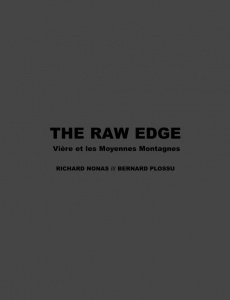 The Raw Edge: Vière et les Moyennes Montagnes [Vière and the Highlands]
Richard Nonas & Fabien Faure
.
20.00 €
.
2011
Publisher: Yellow Now / Côté arts
with the participation of the Musée Gassendi & CAIRN Art Centre
ISBN 978-2-87340-296-9 – 25
2 x 64 pages /// Format 16.5 x 21 cm. 54 black & white photographs. Collection: Côté arts. French, English and Italian editions are available; 100 pages (with black & white photographs). A book born out of the collaboration between the sculptor Richard Nonas and the photographer Bernard Plossu concerning the work in nature Edge Stones: Vière et les Moyennes Montagnes in the area around the town of Prads Haute-Bléone, as part of the VIAPAC contemporary art trail by Richard Nonas. The Raw Edge: Vière et les moyennes montagnes consists of two books combined in a single jacket. Each in their own way, they give an account of Richard Nonas's installation (Edge Stones) in the Réserve Géologique de Haute-Provence. The first book is an album of photographs by Bernard Plossu. The second includes a text by Richard Nonas on his experience and a text by art historian Fabien Faure who analyses it and situates it in the history of art, together texts with twenty photographs by Richard Nonas.
Richard Nonas's installation in the Réserve Géologique de Haute-Provence was inspired by his discovery of the hamlet of Vière. This place, with a special atmosphere, located in the heart of the Alpes de Haute-Provence and formerly the administrative centre of the commune [municipal district] of Prads-Haute-Bléone, was gradually deserted during the 20th century.
Richard Nonas was born in New York in 1936. Often considered as an artist of the minimal or of land art, his past as an anthropologist is probably the key to understanding his work. Nonas works with raw material: wood, stone, steel, etc. His minimalist sculptures show the emotional power concealed in very simple objects and the impact that they give to a place. In France, he has created a permanent installation in Dunkirk and in Digne-les-Bains. He has projects in progress in Arles and in Saint-Rémy-de- Provence.
Bernard Plossu was born in 1945 in Vietnam. He started to take photographs at the age of 13 in the Sahara and, at 20, he was in Mexico. Since then he has continually travelled and expanded his photographic work, which was celebrated in 1988 by an exhibition in the Pompidou Centre and by the French national Grand Prix for photography, and in 2007 by a retrospective in Strasbourg Museum of Modern Art. He has published several books with Éditions Yellow Now: Train de Lumière (with Alain Reinaudo, 2000); So Long (with Charles-Arthur Boyer & Lewis Baltz, 2007); La frontera (with Pierre Devin, 2007); Plossu Cinéma (with Núria Aidelman, Alain Bergala, Michèle Cohen, Gildas Lepetit-Castel, Pascal Neveux & Dominique Païni, 2010); …Des millions d'années… La réserve géologique de Haute-Provence (with David Le Breton, 2010), l'Inverse est exactement vrai. à Digne (with Nathalie Quintane, 2010), Le Pays des petites routes. En Ardèche (with Didier Brousse, 2011) and 8/SUPER 8 (with Christophe Berthoud, 2012).