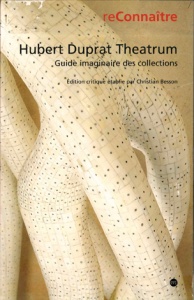 Hubert Duprat Theatrum, guide imaginaire des collections [imaginary guide to collections]
Hubert Duprat, Christian Besson, Louis Chatel
.
12,00 €
.
2002
Publisher: RMN, Musée Gassendi
Monograph published on the occasion of the exhibition in the CAIRN Art Centre from 8 July 10 to September 2002. Collection reConnaitre, 72 pages, 23.7 X 15.3 cm, 240 grams. Presentation of the work of Hubert Duprat, born in 1957, whose sculptural work is a reasoning on the interaction between the concrete and the fantastic, plan and volume, conceptual rigour and baroque extravagance.