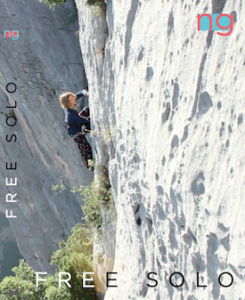 FREE SOLO
NG, Sandra Cattini, Maria Wutz, Rémi Marie
.
8,00 €
.
2013
Publisher: CAIRN Art Centre
Catalogue published by the CAIRN Art Centre in Digne, as part of the FREE SOLO exhibition, from 16 October to 15 December 2013. With the support of the DRAC [Regional Department of Cultural Affairs] and Regional Council of the Provence-Alpes-Côte d'Azur Region, and the City of Digne-les-Bains.
© CAIRN Art Centre, NG for his works, and the authors for their texts, 2013.
"In those years, climbing this vertical cliff – at the time, the climber's safety was random, to say the least, and points of insurance were very rare and precarious – was indeed a total performance, in which a considerable number of climbers lost their lives. For me too, making this video is a performance, like many of my projects. The meaning of this project is also to question the meaning of artistic performance by contrasting it with these performances without any public, that leave no traces behind […] As in my video Limits of Paradise, I am for my part in search of a certain degree of abstraction. To do so, I will have to strip these images from the 1980s of what Bernard Vaucher calls their ideology. There will be no message, no obvious reading, no explanation. What I want to suggest is an enigma. A small character climbs, an animal-human lost in the immensity of the cliff. There is neither top nor bottom, and the video (playing in a continuous loop) shows him/her climbing endlessly, like a vertical ballet whose choreographer would be the rock itself that dictates the movements and actions. There is something Sisyphus-like in this dance…" (NG)