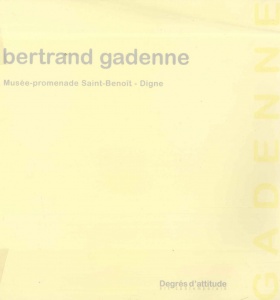 Bertrand Gadenne, Pour la Nuit et Fragments d'un monde à projeter [For the Night and Fragments of a world to be projected]
Bertrand Gadenne
.
6,10 €
.
2001
Publisher: Degrés d'attitude
Bertrand Gadenne, Michel Motré, François Bazzoli, Alain Chareyre-Méjan, Maurice Taieb, Pour la Nuit et Fragments d'un monde à projeter, Catalogue of exhibition in the Cairn gallery, Musée Promenade July-September 2001, Degrés d'attitude.
Bertrand Gadenne's artistic intention is in this vein, placing the onlooker-spectator in front of images borrowed from reality, "fragments of a world", which the artist projects in conditions in such a way that they construct an original dialogue with the physical place. In the night in Digne-les-Bains, the urban space becomes the screen for the images. Abandoned shop windows, which were once little theatres of the world and of commercial exchange, form the perceptible surface from which fleeting video images of animals suddenly appear. Bertrand Gadenne's menagerie full of owls and snakes revives our memories and our fears, and their oversized scale adds to the surprise.